Global Research:
analyse and anticipate market trends
CIC Market Solutions' Global Research office provides investors with cutting-edge market expertise encompassing economics & strategy, technical analysis, and equity and fixed-income investments.
Economics & strategy analysis:
insight into macroeconomic issues to identify the right investment strategies
We provide analyses tailored to current events and the specific needs of each client. These range from the analysis of a specific local situation to international macro-economic analysis.
Technical analysis:
cross-referencing approaches for greater relevance
Analysis of the main asset classes (equities, bonds, currencies, commodities) to determine an asset allocation on the basis of specific signals.
Equity research:
analysing the potential of more than 500 French and European stocks
Fundamental and in-depth analysis of companies and their competitive, regulatory and financial ecosystems. Broad coverage in Europe supported by the strategic partnership with M.M. Warburg & Co in Germany, and by the European Securities Network LLP.
Credit research:
favour bond picking
A Focus on non-financial issuers of euro-denominated bonds with a BBB+ rating or lower, and unrated issuers (French and European issuers, listed or unlisted).
Our Corporate Access team: we put you in touch with issuers and our experts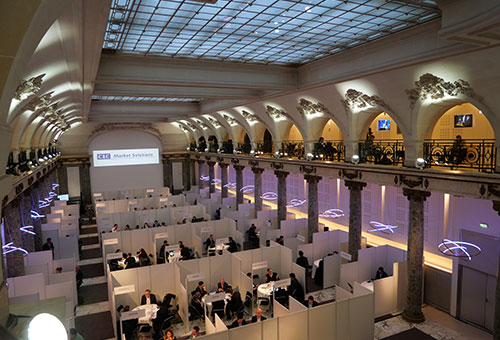 CIC Market Solutions' Corporate Access team organises nearly 500 events each year, in France and North America: corporate roadshows, analyst roadshows, sector or current events discussions sessions, and conferences.
Supported by an in-house recording studio on CIC Market Solutions' premises, the corporate access team brings issuers, investors and experts together in both in-person and virtual formats. Replays of virtual events and roadshows are available on the CIC Market Solutions website and its mobile app, ensuring high availability of our expertise at any time and in any place.
The CIC Market Solutions Forum is the annual flagship event. During this two-day event (three days in 2020 due to the health context), CIC Market Solutions brings together some 200 European companies and 400 investors in group meetings and organises discussion sessions led by CIC Market Solutions' economists and strategists or by companies in order to look at major sector trends.